Professional one-piece folding teleprompter
The complete teleprompter for video professionals
Designed to set up in seconds. Built to last for years.
Things can get a little awkward when your equipment is playing up. The clock's ticking, the talent's getting impatient and everyone (including you) is wondering if you really are a 'professional'. 
Yes, you've got a lot of plates to spin as a video professional. Plenty to worry about. But the ZeePrompt ZP12 ensures your teleprompter won't be one of them.
Connect your laptop to the ZeePrompt's HDMI input and you're ready to prompt!
(Note: the standard version is HDMI only. If you require SDI/HDMI, please order ZP12-SDI.)
Reclaim wasted time
On a busy day of filming, nothing's worse than fiddly equipment wasting time and disrupting your flow.
The ZeePrompt's compact, one-piece design lets you get it assembled in under 10 seconds and fully rigged in under a minute. Without the need for a single tool.
And you don't need to mess about with fabric covers and drawstrings to eliminate light. Just slide one of the supplied foam doughnuts over your lens and line it up with the ZeePrompt's carbon-fibre back panel.
Catch the look on the talent's face when you're ready before them for a change.
Dual mount
If your rig has 15mm rods, simply slide the ZeePrompt onto them, just like a matte box. If not, use the supplied adapter to attach it to a light stand and put it in position.
Standard 1/4 inch and 3/8th inch threads on the base allow flexible mounting options. Easy.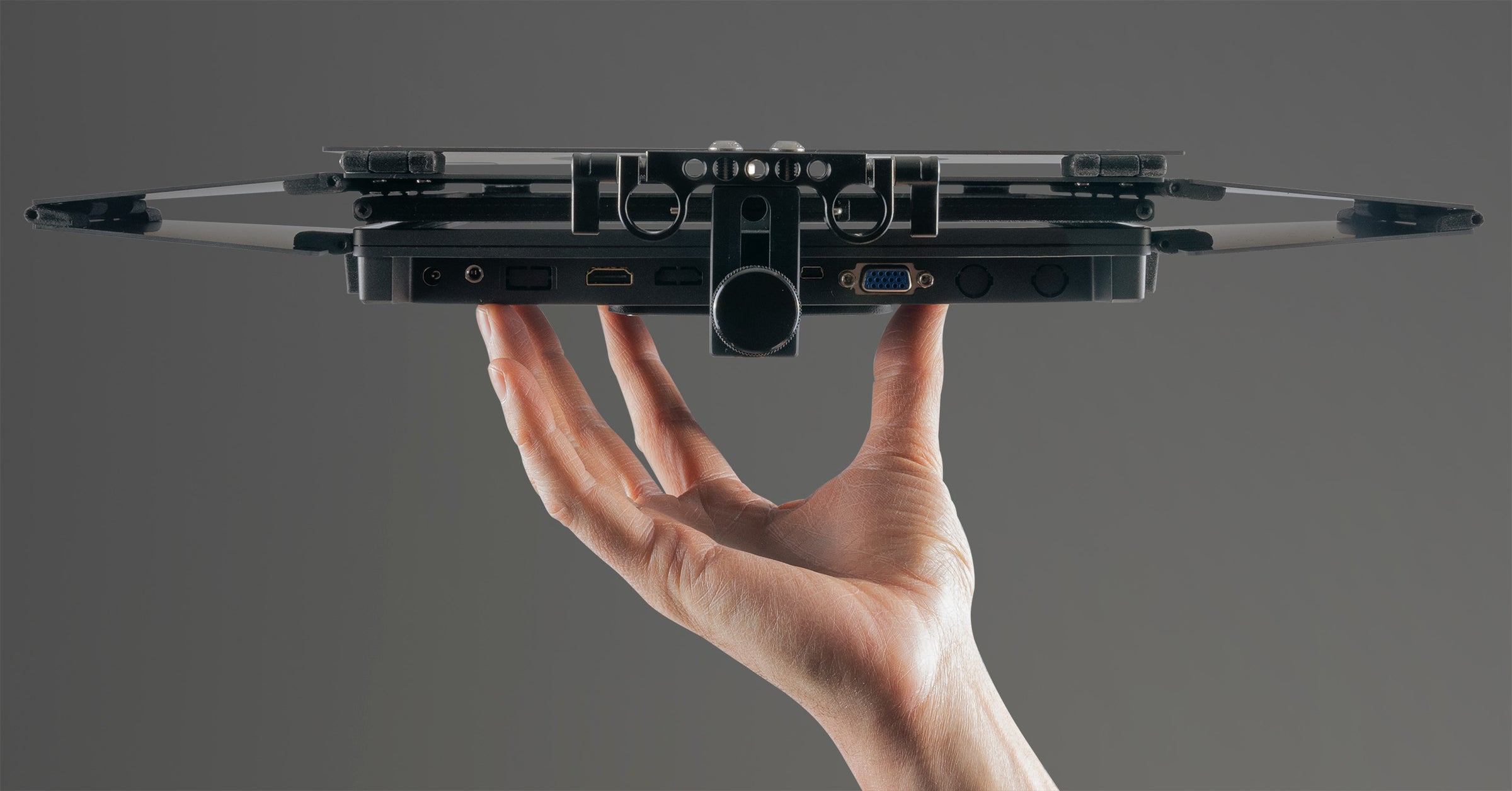 Surefire software
Nothing gets in the way of professional, smooth delivery with ZeePrompt.
Its accompanying software, ZeeCue, ensures the compatibility and usability issues of 3rd-party apps won't slow you down. And you definitely don't need a specialist to work it. 
Simply paste your script into the app on a Windows or Mac computer and it's ready to go.
The interface is truly foolproof. Whoever gets the job of operating it will have no difficulty.  
Of course, last-minute script changes are part of the job. But ZeeCue lets you edit instantly without any disruption - something not possible with tablet-based prompters. 
Includes 3 licences for our ZeeCue teleprompting software for PC and Mac. Worth 79GBP / 90EUR / 96USD
Seamless delivery, anywhere
Your laptop connects to the built-in monitor with a HDMI cable. At 5m long, it gives you plenty of room for manoeuvre. Or, to go wireless, use a cheap HDMI transmitter/receiver. With the software and monitor fully in sync, you won't need to worry about the talent losing their lines.
It can also be powered from a 12V DC supply using a 2.1mm to DTAP cable (optional extra), meaning you don't need to be restricted by mains power.
And while using the ZeePrompt on a beach in Hawaii might be asking a bit too much, it will give you excellent visibility in most outdoor locations. Its enclosed box design stops glare from obscuring the words on the glass.
The ultra-lightweight ZeePrompt is easy on the shoulders if you're carrying a Steadicam. In fact, at just 1.5kg, it won't overload any sort of rig you might be using, making it ideal for all manner of setups.
The ZeePrompt's compact, one-piece design lets you get it assembled in under 10 seconds and fully rigged in under a minute. Without the need for a single tool.
Unlimited possibilites
The ZeePrompt's standard HDMI input gives you a wide range of options...
Standard teleprompting
Teleprompting made simple, using our ZeeCue software (PC or Mac). Or use any other teleprompter app.
Down-the-lens interviews
Feed a second camera into the ZeePrompt's HDMI input and you've instantly got an interrotron for direct-to-camera interviews. Take it one step further and feed your Zoom/Teams call to the ZeePrompt for remote interviews.
Present using Powerpoint
Don't want to read from a script? Just run your Powerpoint or Keynote presentation on your laptop, plug into the ZeePrompt and you're good to go. You don't even need to worry about the image reversing - the ZeePrompt's built-in monitor takes care of that.
Built to last
It may be lightweight but the ZeePrompt can look after itself. Its carbon fibre-infused frame is as strong as metal but much lighter. It'll last well beyond the 12-month warranty.
It'll future-proof your shoots - handle it with care and you won't need to replace your teleprompter for years.
Of course, the most important part of any teleprompter is the beamsplitter glass. Which is why the ZeePrompt keeps the glass well protected. It's built-in and folds away in the one-piece design so you never have to worry about dropping it - and it keeps the dust off.
And since you never even have to touch the glass, you won't get any fingerprints blurring the image.
Ideal for the filmmaker on the move
Included carry-bag
The ZeePrompt comes with a carry bag complete with laser-cut foam that keeps it safe during transport.  Simply fold the ZeePrompt down in seconds. It takes up only slightly more space in the van than a laptop bag. It's also small enough for carry-on baggage, saving you some money when you travel overseas. 
IP67 Hard Case (optional)
If you're a bit more heavy-handed with your gear you might want to consider the ZeePrompt's hard case as an extra precaution. 
The hard case is also recommended if you travel overseas with your equipment - you don't want the rough treatment of airport baggage handlers endangering your gear. Likewise if you're an equipment rental company. The hard case gives you that extra layer of assurance that your equipment will come back in one piece.
What's in the box
ZeePrompt main unit - Carbon-fibre panels; Integrated 10.1-inch HD monitor; Fitted 12-inch beamsplitter glass
Foam doughnuts - 63, 80 & 112mm. So much easier than fabric and drawstrings
16mm female adaptor - No rods? No problem. Screws in easily for a quality alternative
5 metre full-size HDMI cable - Connect to your laptop with plenty of room for manoeuvre
Mains power adaptor - UK, US, EU, AU heads
ZeeCue teleprompting software - Makes perfect delivery simple. Licence for PC & Mac worth 79GBP / 90EUR / 96USD
Carry bag - With laser cut foam (optional hard case available).
Printed instructions - Although it's so intuitive to use, you won't really need them
Zoom in on ZeePrompt's impact
★★★★★

The fact that the Zee Prompt folds flat is brilliant. And because it is in practically one piece, it is so easy to set up, pack down and transport.

Ben Baldwin

Producer/Director
★★★★★

Very compact unit and simple to fix on 15 mm bars. We do a lot of location shooting and the kit doesn't take up valuable space in the van which is important.

Matthew

Camera operator
★★★★★

Really pleased with my Zeeprompt. It's much quicker to setup than my previous iPad teleprompter, and the build quality is loads better.

Simon

Filmmaker
★★★★★

The unit is so compact which I love, it fits in a briefcase sized carry case with all the cables and hardware. Once you have it fitted for your camera it's very quick to mount and is small enough to go hand held without having to worry about a Ipad falling out (my old system).

Bill Paris

DoP
The ZeePrompt is for you if you frequently rely on teleprompters to produce high-quality videos. It's guaranteed to slash the time (and stress) involved in getting ready to shoot. 
Creative, commercial, corporate - whatever kind of videos you shoot, the ZeePrompt will make your life easier for years to come.
Please see our online shop for pricing in your currency. Considering how much time it'll save you on every shoot, and how many years of quality video it'll give you, not a bad investment.
Yes, there are. But due to their inferior build quality and the fact you have to handle the glass after use, the chances are you'll have to replace them before long. 
What's more, a lot cheaper teleprompters involve using a separate tablet in a flimsy holder. These sorts of teleprompters are notorious for issues such as incompatibility, lack of visibility, and difficulty controlling and editing the script. 
And most teleprompters with built-in monitors are heavy and clunky, requiring a tripod base plate to support the weight. 
The ZeePrompt gives you the best of all worlds. It's the only one that gives you everything you need from a teleprompter.
Superfast setup
High-quality video made easy
Flexibility for different recording setups
Easy to transport and store
Unparalleled durability
Yes, you can use other teleprompting apps with the ZeePrompt.
But we recommend using the ZeeCue software that comes with it. It's been designed with ease of use and flexibility in mind, and it guarantees you won't have any technical glitches slowing you down.