Perfect down-the-lens interviews
The VoxBox Pro is a mirror box which positions in front of the camera lens. It allows filmmakers and content producers to shoot down-the-lens interviews while maintaining eye contact between the interviewer and the subject.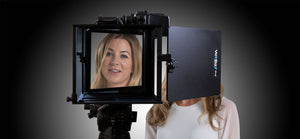 How the VoxBox Pro Works
The interviewer and subject see each other through the mirror, but the subject is actually looking down the lens, resulting in direct eye contact with the audience. It relaxes the subject and allows them to deliver powerful stories and credible interviews. There are no additional cameras, TV screens or technology required.
View the Gallery
Be ready to roll in minutes
There are no cumbersome tripod plates or adaptors to fit - the unit simply attaches in place of your matte box to existing 15mm rails.

If you don't have rails or you are using a DSLR, the kit includes a 16mm receiver allowing it to be mounted on a standard lighting stand.
Buy Now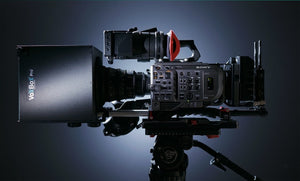 What the users are saying...
★★★★★

"I think the VoxBox Pro is my favourite kit purchase this year so far. Everything is built so well."

Paul Ream

Lighting Cameraman / DOP, UK
★★★★★

"It's solidly made and looks very professional - the director/client can plainly see what they're getting for the rental fee... it's not just a cardboard box."

Robin Probyn

Lighting Cameraman / DOP, Tokyo, Japan
★★★★★

"We really love the VoxBox Pro and have been evangelizing it to all of our colleagues in the digital video space. So much of our video journalism has turned direct-to-camera."

Jonah M. Kessel

The New York Times
Portable and Flexible
Challenging spaces are no problem for the VoxBox Pro – the unit can be quickly configured to allow the interviewer to sit at one of several possible positions.
​For shooting-producers/directors or camera operators, the unit comes with a side mirror which allows operation of the camera whilst maintaining eye contact with the subject through the VoxBox Pro. This flexibility allows you to quickly adapt to each location.
Converts to a Teleprompter
Switch from interview mode to Teleprompter mode in seconds using the tablet holder - included with the kit.
Designed for busy crews
With schedule pressures on location, the VoxBox Pro makes life easier when shooting down-the-lens interviews. It can be stored fully assembled in the case so you'll always be ready to shoot in minutes. This ultra-quick setup allows you to spend more time getting the shot right - not trying to attach cumbersome adaptors and balance tripod plates.
The sturdy, aluminium construction withstands day-to-day handling and uses hardware fixings throughout.
Everything you need, in one box
Owning the VoxBox Pro means you can offer your clients this unique kit without the inconvenience of hiring similar units.
There are no extras to purchase - everything you need is in the case.
See the VoxBox Pro in action